In addition to vehicle fleet management, other aspects may be considered when managing a fleet of vehicles. The most pertinent could be the management of special stocks and the environmental impact of the fleet. When managing a fleet of vehicles, it may be useful to stock particular commodities such as fuel and spare parts. The information in this section is complementary to the chapters on sections on physical stock management and on dangerous goods. Rather than focusing in safety issues, the content below is more related to the good conditioning and management of stocks for optimal use:
Self-Managing Fuel
Fuel Tanks/Bladders
Tanks or fuel are a preferred option though are less flexible in terms of setup. Tanks and fuel bladders are good for long term projects where there is a known need for refuelling vehicles for the foreseeable future, and where refuelling is consistent. The installation of fuel tanks or balder come with their own problems, however; Large quantities of fuel can be heavy, and installing a fuel tank on infirm ground or an unstable structure can lead to damage and bodily harm. Depending on the size of the fuel tank, there may also be extremely large quantities of fuel that may pose security risks:
A single flame can ignite the entire reservoir.

Large quantities of fuel may attract the attention of thieves or armed bandits.
Tanks and bladders should be installed on relatively elevated positions, at least as high or higher than the fuel tanks of the prospective vehicles, usually at least one meter off the ground. Tanks and bladders should only be fabricated out of materials that are specifically designed to hold fuel.
Fuel tanks also usually require refilling from a tankered fuel truck, meaning the tank or bladder must be physically reachable by the refuelling vehicle. Compounds should have enough room for a refuelling truck to enter and turn, or the tank must be accessible from a hose. A pump will also be required to push fuel from a delivery truck to the tank, meaning if the truck does not have a pump with it, one will need to be available nearby.
Fuel tanks can be refilled from drums by hand, but this is time consuming, requires physical labour, and can lead to spilling. If at all possible, if refilling form drums is required, a pump should be used in place of pouring fuel from the drum into the tank.
Fuel tanks or bladders should be well marked and highly visible. The tank and area around it should also be clearly labelled as dangerous.
Fuel is usually withdrawn from drums using a pump. It is highly advised that any fuel pump has a gauge on it to record how many litres are pumped, both at the time of vehicle refuelling, and over the life of the pump itself. Organisations may also wish to use as clearly visible measuring stick outside of the tank to monitor the height of the fuel. Cross referencing the count on the fuel pump vs. the height of the fuel can indicate if fuel is being stolen or if it is leaking slowly.
Inspections around a fuel tank should be conducted several times a year to look for signs of degradation, warping on leaking.
Drums
Fuel drums may be used in situations where required fuel quantities are small, where the only refuelling capacity is delivery by drum, or where it is unsafe or inappropriate to maintain a large fuel tank for whatever reason.
Drums should be stored upright on wooden pallets in order to avoid rusting at the bottom of the drum, especially in humid conditions. The pallets should be on waterproof plastic sheeting, and a bed of sand or sawdust should surround the pallets to absorb leaks during handling. Plastic sheeting should be cleaned regularly and the sand/sawdust should be replaced regularly to avoid build-up of hazardous chemicals.
When possible, it is best to buy new, sealed drums directly from the refinery. This to avoid:
Leaking drums due to existing damage.

Drums whose content quality is difficult to monitor through transport and storage.

Drums with rusty inner walls that release particles.

Drums which have contained products other than fuel and which have not been cleaned properly.
Fuel contained in a leaking drum should be transferred without delay to a drum in good condition. Be aware that there is no effective way to seal a leaking drum that is full. Drums can be sealed by welding, which should never occur around any amount of fuel.
Leaks are often caused by improper handling of drums. For the loading / unloading of drums from vehicles, it is recommended to build a permanent ramp. Alternatively, warehouse or base personnel can use boards designed for the purpose, and built in place. When rolling a drum on the ground, be sure to sweep the surface in front of it to prevent hard points like nails or stone from puncturing the drum or damaging it.
The contents of the drum must always be correctly written on the container to avoid filling a diesel vehicle with petrol and vice versa. It is a good practice to assign a colour for each type of fuel and mark all the related articles - jerrycans, drums, pumps - with it to assist persons with different languages or different reading capabilities.
In both cases, drums or tank, the containers must be waterproof and dust-proof.
Fuel Purity
As fuel settles during storage, all the impurities including dust and suspended matter will settle to the bottom. If water is present in the fuel, it will also separate and settle to the bottom. This natural settling over time will provide acceptable quality fuel for users, while impure fuel may damage equipment, increase maintenance requirements, and shorten its useable life span. There are several recommendations to follow to avoid filling the vehicles with dirty fuel:
Before pumping, the drum or tank should rest for three days to allow the fuel to settle and separate.

Avoid distributing by gravity; use a pump to draw from the container.

Never pump from the bottom of the tank otherwise all the impurities and water will be transferred to the vehicle fuel tank. The suction tube must be positioned at minimum 20 cm above the bottom of the tank.

Avoid also pumping from above the first 10 cm on the top of the tank.

Use retention filters to capture water and impurities, especially when pumping from the last 25 cm of the tank or drum. It is a good practice to replace the filter every year (more often if the quality of the fuel is poor).
All fuels are corrosive and should not be used with plastic accessories, such as plastic buckets or plastic pipes. Also avoid contact with Teflon and tire inner-tubes.
Terminology
It is common to use the term "fuel" to refer to different products. Furthermore, equal terms in different languages refer to different product types. The following translation sheet, illustrates the basics on fuel terminology:
French

English (US)

English (UK)

Spanish

Use

Handling Specifics

COMBUSTIBLE (Carburant)

FUEL
(Motor fuel)

FUEL
(Motor fuel)

COMBUSTIBLE (Carburante)

 
 

METHANE

METHANE

METHANE

METANO

Town gas

Gas

ETHANE

ETHANE

ETHANE

ETANO

 

Gas

PROPANE

PROPANE

PROPANE

PROPANO

Bottled gas for fridge, heating, etc.

Gas

BUTANE

BUTANE

BUTANE

BUTANO

Bottled gas for fridge, heating, etc.

Gas

G.P.L.

L.P.G.

L.P.G.

G.P.L.

Liquefied Petroleum Gas

Gas used for car fuel, (adapted engine)

AVGAS, LL100
Essence Avion

AVGAS, LL100

AVGAS, LL100

AVGAS, LL100

Aviation Gasoline:
for piston engines

Very volatile, fluid, blue colour, same smell as petrol. Very flammable, explosive. Can be used in a petrol engine with 3% oil added

ESSENCE

- super
- normale
- sans plomb

GASOLINE

- premium
- regular
- unleaded

PETROL

- super
- regular
- unleaded

GASOLINA

- super
- normal
- sin plomo

 

Volatile, fluid, colourless (or almost). Very flammable, explosive. Cannot be replaced by diesel, but can replace Avgas in some aircraft. Various octane indices between regular and super

KEROSENE, JETA1

KEROSENE, JETA1

KEROSENE, JETA1

KEROSENO, JETA1

Turbine engine aircraft

Same as for Paraffin but with aeronautical specifications: Filtering, packing and storing.

PETROLE (Lampant), PARAFFINE (Canada)

KEROSENE (Lamp oil)

KEROSENE (Lamp oil), PARAFFIN (Oil)

KEROSENO, PETROLEO

Lamps, fridges, burner, etc.

Colourless, specific smell. Fuel for so-called "lamp oil" equipment

GASOIL, GAZOLE

GASOIL, DIESEL

GASOIL, DIESEL

GASOLEO, DIESEL

Cars

Greasy, yellowish, frequently coloured, heavy smell. When pure, solidifies at -5°C and requires an additive (or 20% lamp oil). This also acts as the injection pump lubricant.

FUEL, FIOUL, MAZOUT

FUEL OIL

FUEL OIL, PARAFFIN

FUEL

Heating

Same as diesel without additives for low temperatures and lubrication

HUILE

OIL

OIL

ACEITE

Lubrication

Greasy, different viscosities for different uses

PARAFFINE

PARAFFIN, WAX

PARAFFIN, WAX

PARAFINA

Candles

 

PETROLE LOURD

HEAVY FUEL

HEAVY FUEL

 

Slow engines

Heavy combustible for marine engines and power plants

ASPHALTE, BITUME

ASPHALT

ASPHALT

ASFALTO

Road surfaces

 

PETROLE (BRUT)

CRUDE PETROLEUM, KEROSENE

ROCK OIL, PARAFFIN

CRUDO

Natural state

 
Adapted from MSF
Managing Spare Parts
It is important to know when to self-manage a stock of spare parts. The decision is usually linked to the convenience of a self-managed workshop and to the use of owned and standardised fleet of vehicles. Given the complexity, it is not recommended to hold a stock of spare parts if the variety of vehicles in the fleet exceeds two or three different models.
Managing a fleet of self-owned vehicles in contexts where a supply chain remains uncertain imposes a high degree of autonomy in terms of spare parts availability. The risks of not having spares at the wrong moment must be assessed. The following matrix can be adapted and used as guidance for decision taking.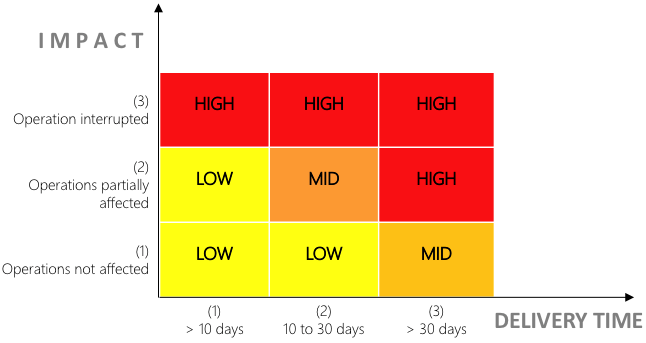 Also consider the reliability of local markets: the cost of original parts purchased locally can be double or even triple that of buying internationally. Generally, most of the parts available locally consist of high demand parts such as filters or brake linings, while less demanded parts may be less available but just as important. Some consumables - such as lubricants and tires - can be easily found locally.
It is recommended to perform market research with a comprehensive list of parts and carefully assess the quality of available parts and validate suppliers. Original quality supplies should be always demanded as the consequences of using counterfeit or substandard parts can seriously affect the condition of the vehicle and jeopardise rider safety.
Once organisations decide to hold a stock of spare parts, they should define the type and quantities of each part required. This can be calculated based on the scale of the fleet, the frequency and types of the preventative maintenance services and the average number of kilometres completed per month per vehicle.
Managing Environmental Impact
Logistics teams must guarantee an efficient use of resources, optimising costs and reducing the environmental impact of movements.
Movement planners should look for opportunities to combine, or in some cases avoid travel. Fleet managers should try to reduce the size of the fleet or replace vehicles with smaller, cheaper and more efficient ones wherever possible. Pooling logistics resources, such as vehicles, with other organisations may also provide significant cost and emissions cutbacks through optimised fuel consumption and smaller fleets.
A vehicle's good mechanical condition and proper use will reduce fuel consumption, extend the life of all vehicle parts, avoid unnecessary expenses, and ultimately, reduce environmental impact.