Conditioning Water-Packs
The temperature of coolant packs must be set according to the temperatures required by the vaccines to be shipped. There are two main possibilities: (1) the vaccines to be shipped in the cold box may be frozen (Measles, Polio, Yellow fever, Meningitis, etc.); (2) the vaccines to be shipped in the cold box will be irreversibly damaged when frozen (DTP, DT, Td, TT, Hep A and Hep B, Hib).
If all vaccines to be shipped in the cold box may be frozen, frozen coolant packs can be directly transferred from the freezer to the cold box.
In the case that vaccines will be damaged when frozen, the coolant packs need to be "conditioned" before being transferred into the cold box. That means bringing its temperature up to 0ºC. The conditioning of coolant packs consists of laying the required number of frozen ice-packs on a table or work surface (preferably not under direct sun light) and waiting until they all reach 0ºC.  This may take at least 30 to 45 minutes in hot weather and much longer in cool conditions (from 90 to 120 minutes at +20°C). In order to know when the icepacks are ready to be used, there must be liquid water inside every pack and the ice cores should be able to move freely inside the packs when shaken. To ease the process, place the icepacks in one single layer and separated from each other.
The use of cool water-packs and warm water-packs can be pertinent for some shipments. Warm water-packs are used to protect freeze-sensitive vaccines in countries where temperatures are frequently below 0°C. Warm water-packs are to be prepared at a room temperature between +18°C and a maximum of +24°C. Cool water-packs are to be prepared in a refrigerator at a temperature of no more than +5°.
For further information on the preparation of passive containers with frozen, conditioned, cool, or warm water packs, refer to WHO's How to use passive containers and coolant-packs.
Packing
Correct packing arrangements are necessary to prevent temperature excursions and vial breakage. In addition, it makes efficient use of the available storage volume.
The first action during packing is to dry any droplets on the coolant packs surface and placing it in a cold box according to the cold box manufacturer specifications: the correct size and number of coolant-packs must be used. The technical sheet for loading the cold box is often available inside each box.
Place the vaccines inside the cold box, putting cardboard between thermo-sensitive products and icepacks to prevent them touching. Make sure that any remaining space is filled with packing material to avoid damage during onward transport.
When packing vaccines without secondary package/carton box (common practice when using vaccine carriers), put the vaccines and diluents in a plastic bag in the middle of the cold box or carrier to protect them from damage due to condensation.
Place the required temperature monitoring devices in the box or carrier. In case of using electronic monitoring devices, do not forget to activate it. Do not allow monitoring devices to come into contact with coolant packs. If using a thermometer in the container, place it in a visible and easily accessible place to avoid long content handling during temperature checks.
When required, put the top layer of coolant packs and close the container.
Labelling Containers
The labelling of containers carrying vaccines must indicate warnings about the time and the temperature sensitiveness of the shipment.
Specific requirements exist for the labelling of international/air shipments. Therefore, a distinction must be made between international/air and domestic shipping.
International/Air Shipments
For international/air shipments, a label must be affixed to the front surface of each package indicating type of vaccine, name of manufacturer, presentation, batch number, date of manufacture, date of expiry, quantity, and storage conditions. The manufacture date and expiry date on all labels should be written in full, not in a coded form (i.e. June 2017, not 06.17). In addition, required temperature conditions for transportation must be clearly visible on the outer carton, indicating clearly where recommended transportation temperatures differ from recommended storage temperatures.
A "Vaccine Rush" Label must be affixed to each face of the vaccine package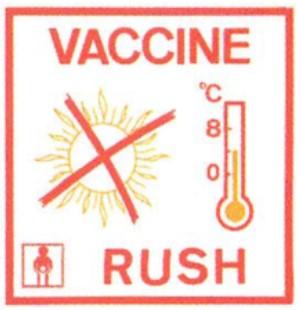 A "Do Not Freeze" label must be affixed to those packages (in each face) containing freeze-sensitive vaccines, droppers or diluents.

An IATA Time and Temperature Sensitive Label (mandatory from 2012). The lower half of the label must never be left blank and must indicate the external transportation temperature range of the shipment - this can be hand written or printed onto the label.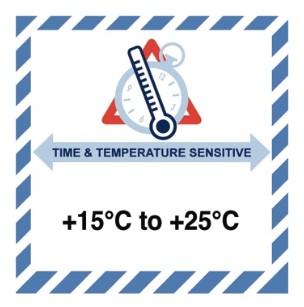 Labels must be written in a language appropriate to the country of destination.
Shipping documents should be included in the box labelled "Number 1", and this box should be clearly labelled with the words "Containing vaccine shipping documents".
Domestic/Road Shipments
There is no specific international regulation for labelling vaccine shipments transported by road. Nevertheless, becoming knowledgeable in the laws of all of the countries in your distribution channel can help to avoid administrative burden and delivery delays.
In any case it is recommended that shipper and consignee agree on a basic standard operational procedure to pack, label and receive vaccine shipments. Among other topics, the procedure should establish the warning signs about time and temperature sensitiveness of the vaccine parcels. As a minimum standard, it is recommended that a "Vaccine Rush" Label should be affixed to each parcel carrying vaccines.
Shipment Documentation
Having the proper documentation in time is critical for any vaccine shipment as any deficiency may delay it exposing the vaccines to inconvenient temperature conditions, especially through cross-border supply chains. The shipper must provide the cargo details with sufficient time in advance to allow the consignee to prepare for the reception. In addition to the commonly accepted standard set of shipping documents and documents associated with importation, the documents and information should include:
Date and time for place of departure, transit (if applicable), and arrival.
Type of vaccine, total number of primary containers/vials and number of doses per primary container/vials.
Lot Release Certificate issued by the national regulatory authority (NRA) of the country of manufacture for each lot of vaccine supplied, together with the Certificate of Pharmaceutical Product (also by the NRA).
Lot Summary Protocol of production and quality control.
The following original documents should accompany the consignment when it is shipped:
Signed and/or stamped supplier's invoice.
Packing List.
Lot Release Certificate issued (signed and/or stamped) by the national regulatory authority of the country of manufacture for each lot of vaccine supplied.
Lot summary protocol.
One set of the original documents above must also be placed inside the parcel numbered "1". This particular parcel should be clearly labelled with the words "Containing vaccine shipping documentation".
A list of contact points for national regulatory authorities in countries producing vaccines pre-qualified for purchase by United Nations agencies can be found in the Annex 3 of WHO Guidelines on the international packaging and shipping of vaccines.