Transportation
Unique Concepts to Road Transportation
Vehicle Selection
It is important to be able to select the appropriate vehicle for the purpose required even if, at a later stage, it is necessary to revise this choice to reflect availability in the field. See below a description of the main body types and combinations that are available.
Body and Size
The overall size of the vehicle is largely tied to the load in question. There are many factors that might limit the weight of a vehicle, including local infrastructure, road conditions, local laws and even the overall quality of the vehicle itself.
Often times vehicles are referred to a weight rating, such as a twenty-tonne or forty-tonne vehicle. These tonnages referred to by the vehicle classification are specifying the maximum gross weight of the vehicle, which includes the weight of the cargo and the weight of the vehicle itself. These specific designations are important for route and transport planning, as many roads, surfaces and bridges are rated for different tonnages for a variety of structural or environmental reasons. This means that the actual weight of the cargo payload per vehicle will be moderately less, depending on the vehicle.
The actual maximum allowable payload weight per vehicle will be specified by the manufacturer, and can also be regulated by national or local regulations.  The overall body and engine type of the vehicle will also impact the specific maximum payload of the vehicle. For the purposes of planning, the size to payload needs can be defined as in the table below:
  Type

 

Axles

 

Max Gross Weight (Tonnes)

*Estimated Payload (Tonnes)

Typical Total Body Length (Meters)

Body

Single Unit Truck

2 axles / 4 wheels

3.5

1

Various

Single Unit Truck

2 axles / 6 wheels

7.5

3.5

Various

Single Unit Truck

2 axles / 6 wheels

18.8

12

12

Single Unit Truck

3 axles

26

18

12

Single Unit Truck

4 axles

36

25

12

Tractor Trailer Truck

3 axles

26

18

16.5

Tractor Trailer Truck

4 axles

38

24

16.5

Tractor Trailer Truck

5 axles

40

24

16.5

Tractor Trailer Truck

6 axles

41

27

16.5

Close Coupled Trailer

Various

40

26

18.75
*The estimated payload is the weight of goods that can be carried without exceeding the maximum gross vehicle weight. Where law does not specify a maximum gross weight or local circumstances allow, this payload may be increased. For high volume / low weight cargo, the load may reach maximum capacity before weight limits are met.
Generic Body Types
The desired vehicle body/trailer type will vary according to the goods or materials being carried, the terrain, the distance, and the prevailing security conditions on the ground. There are many variants of body/trailer type available. Generic body types might include:
Flatbed / Platform - The simplest and cheapest body type, comprised a flat surface resting on the axles with no sides or protection. Flatbed/platform bodies provide all round access to the load, but offers little security or protection from the weather. Loads carried using the open sided flatbed/platform vehicle will need to be secured using netting/ropes, and will likely need to be covered with plastic or tarpaulin to protect against the elements. Trucks in many humanitarian contexts might use the equivalent of a flatbed truck with built up side walls – this method helps protect against items falling or being taken from the interior of the load, but will still require covering with some form of tarp.

Box truck / Van body – A truck body with hard and rigid sides that enclose the platform completely. This body type reduces the payload of the vehicle due to the fact the physical structure adds weight, but provides protection for a perishable product and added security. Construction of the external body will depend upon the needs for insulation, waterproofing or strength. Access is usually provided by a rear door. Sometimes a door will be built into one, or both, of the body sides for special access. Box/van trucks are also ideal for special needs situations, such as refrigerated loads.

Curtain Side / Drop Side Bodies - Curtain sided / drop side bodies overcome the disadvantages of access; the full bed can be exposed by either pulling back a curtain or dropping the side of cargo space. This improves the speed of loading as well as unloading. Advantages of load restraint and weather protection are maintained, while body weight might less than the box body. Curtain sided /drop sided bodies are less secure however, as contents are easier to access and cannot always be locked.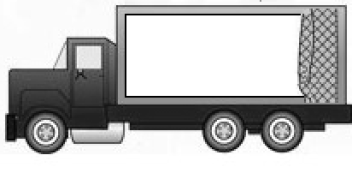 Tankers - Designed to carry powders or liquids, usually shaped in a way to prevent the vehicle from tipping over due to shifting weight. Tankers require a pumping mechanism and hoses to discharge the load, and some tankers have pumps built right into the back.

Bulk Carriers - Built similar box bodies, only without the roof. Bulk carriers are useful for large loads of loose goods that don't require typical manual loading, such as grains, gravel, or even fruits. Bulk carriers might have a mechanical tipping mechanism built right in, otherwise offloading bulk items may be done by hand and very time consuming. Bulk carriers are typically covered with tarp.

Double/Close-Coupled Trailer – a tractor pulling more than one trailer, linked like a chain. A double trailer configuration adds more weight to the load as more axles and connections are required, but adds increased manoeuvrability.

Vehicle Manoeuvring
Trucks in all of their forms are by their nature difficult to manoeuvre, having special difficulty turning around and backing up. Aid agencies planning cargo operations using trucks must keep the turning and parking needs of vehicles in mind for planning purposes.
When contracting or purchasing trucks for consistent use in or around warehouses, the available parking, loading/offloading and turning space available for the vehicles must be taken into account. Many warehouses have enclosed fencing or walls, and may only have one single entry gate. Any vehicle used for pick-up or delivery must be able to enter the space, turn around and back up if needed. Additional consideration must be taken if multiple truck loads are to be enacted at once – will one truck inside being loaded/offloaded prevent another truck from entering, leaving or manoeuvring?
Long haul vehicle movements may be along narrow roads with no shoulders, cross roads or turn around space. An especially long truck may not be able to turn around if needed while en-route, and may need to reach its destination or next large intersection, which may be hours or days away.
At any time and regardless of the terrain, persons operating trucks must remain aware of height and width limitations of tunnels, underpasses, alleyways and enclosed parking areas, and must remain aware of weight limitations of bridges. When evaluating the size and weight limitations of vehicles, operators must also take the size and weight of cargo into account as well. A vehicle may be able to operate along a regular route under normal conditions, however an oversized cargo load my impact operating conditions. 
Below is a general guide for vehicle turning radius. Planners should note that actual turning radius depends on the vehicle, and different makes and models will have some differences. 
Single Unit Truck Body:

| Vehicle Length (m) | Safe Turning Radius (m) |
| --- | --- |
| 6 | 18 |
| 7 | 21 |
| 8 | 24 |
| 9 | 27 |
 Articulating Tractor Trailer:

| Vehicle Length (m) | Safe Turning Radius (m) |
| --- | --- |
| 12 | 26 |
| 14 | 29 |
| 19 | 41 |
| 25 | 54 |
A quick reference guide to vehicle body types and vehicle manoeuvring can be downloaded here.